Laser Cutting and Engraving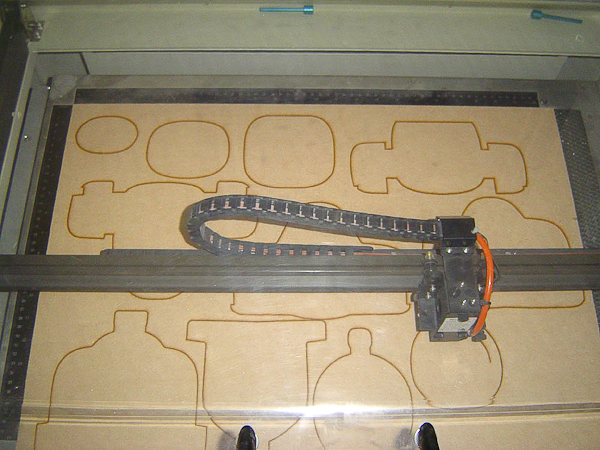 Laser Cutting and Engraving
Laser cutting and engraving are processes that we use in house in our model making and custom fabrication work. We also offer laser cutting and engraving as a service. If you have parts that you need cut or engraved, we can do that for you. The best materials for Laser cutting are Acrylic plastic (AKA Plexiglas), soft woods, MDF, FoamBoard and paper/card stock. If you have a particular material that you'd like cut or engraved, just contact us and ask if it's possible.
Please note:
1. Except where noted all prices are for full sheet (18" x 20")
2. Material thicknesses noted can vary slightly from piece to piece and sometimes even within the same sheet, consider these dimensions to have a tollerance of about +/_ .005"
Base pricing* for laser cutting service (material and machine time) is as follows
Acrylic
1/16" $48.00 (Actual thickness .055")
1/8" $62.50 (Actual thickness .112")

MDF
1/8" $45.00 (Actual thickness .120")

FoamBoard
3/16" $30.00 (Actual thickness .180")
Matboard
.050" $40.00 (Actual thickness .050")
Basswood (sheet size is 2.75" x 20")
1/16" $20.00 (Actual thickness .060")

Postage on all laser orders, Priority Mail $10.00
Formatting your drawing file for laser cutting: AutoCAD files Corel Draw Files
We prefer AutoCAD files over Corel Draw, both work perfectly but we are experts at AutoCAD and can quickly fix any minor issues with your file before we send it to the laser. If you send a Corel file we will send it straight to the laser and you will get what you have drawn ... correct or not.
To get started please click on the two links above to learn how to format your files for laser cutting. If you still have questions after reading those pages please feel free to email us and ask us to clear up any concerns you have.
If you are ready to go send your file to admin@akriviatech.com along with instructions including material and how many full sheets you'd like cut. If your job is smaller than a full sheet we will email you a quote on the job and if you want many multiple copies of the same job we will email you a quote for volume pricing.
You don't have AutoCAD or Corel Draw? If you have a different vector based drawing program it can probably export it's drawings in AutoCAD DWG or DXF format. Follow the guidelines above on formatting your files as closely as possible, export your drawings to DWG or DXF format and send them to us and we'll have a look at them and tell you if they are suitable for laser cutting.
You don't have any drawing program at all or you have no drafting skills? No problem there either, we can create your drawing for your (for a fee of course). Just supply us with a rough sketch, photos, etc of what you are looking for and what scale you want it in and we will quote you a price for generating the CAD file. If the product you want cut is something we can sell on our retail website (gcmini.com) we will give you the choice of paying us to design your product and cutting it exclusively for you or you can let us design it for free and put it on the site and you can buy the cut kit at retail prices which are much lower than custom work prices.
* Base price assumes an average cutting job with some engraving. Highly detailed jobs or those with much engraving will require considerably more machine time and will be quoted at a higher price.